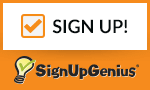 Lots of opportunities to get involved with the 2019 St. Timothy Festival on the Green!
Read More →
Captains' Meeting | 7:30 pm Tuesday, June 18 at Somewhere in Particular Brewing (5055 Dierker Rd)
All captains - new, old, and interested - should plan to attend. See you there!
Read More →
We're working to identify a new Communications Chair for the Festival. In the meantime, please contact LizKoehler217@yahoo.com with any Festival news or updates that should be added to this site.
Read More →